Back
Who Owns the Copyright in a Monkey Selfie?
2014-08-31
Background
In 2011, Indonesian monkeys snatched the camera of a British wildlife photographer, David Slater (the "Photographer") and took self-portraits of themselves. One of the monkey selfies taken by a female monkey has gone viral and made it onto Wikipedia Commons (the "Monkey Selfie").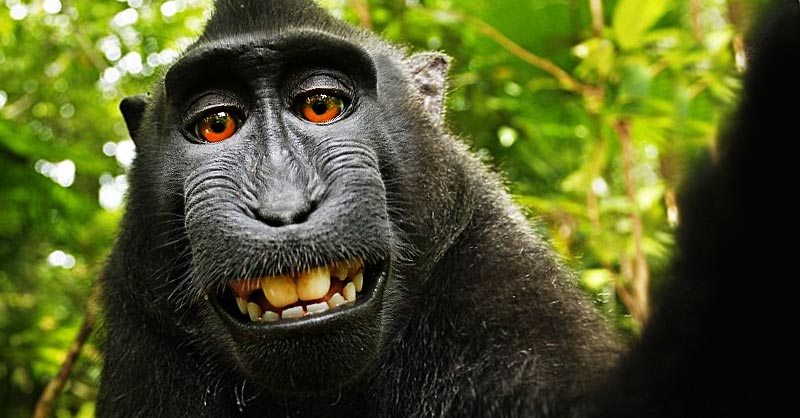 The Photographer claimed ownership of the Monkey Selfie, taking the view that he had set the self-portraits up by framing them and setting the camera on a tripod. The Photographer requested Wikipedia to take down the Monkey Selfie but was refused. Wikipedia claimed that the Monkey Selfie was uncopyrightable.
Can animals own copyright?
In the US, according to section 102(a) of the US Copyright Law – Title 17 of the US Code, copyright protection subsists in original works of authorship fixed in any tangible medium of expression. We shall explain the meaning of this provision as follows.
Fixed in tangible medium of expression
Photographs are classic examples of work fixed in tangible medium of expression. The Monkey Selfie has been set in a form that the image of the female monkey is sufficiently permanent to be perceived. Thus, this criterion can be satisfied.
Originality
In Feist Publications, Inc. v. Rural Telephone Service Co., 499 U.S. 340 (1991), the US Supreme Court held that "original" means possessing some creative spark, "no matter how crude, humble or obvious" the work might be. Therefore, only minimal degree of creativity is required to fulfil such a condition. Applying to the Monkey Selfie, the funny facial expression created by the monkey is likely to qualify for the rather low threshold of the criterion of "original".
Authorship
To qualify for copyright protection, the Monkey Selfie must have an "author". According to section 202.02(b) of the US Copyright Office Compendium of Copyright Practices, the term "authorship" implies that, for a work to be copyrightable, it must owe its origin to a human being. Materials produced solely by nature, by plants, or by animals are not copyrightable.
In other words, monkeys may create works of art, but these works cannot qualify for copyright protection as copyright cannot be vested in non-human authors. The further question which arises is, whether humans can acquire rights over the works created by animals?
Can the Photographer own copyright?
There are conflicting views on this issue.
One view appears to be inclined towards the tracing of the owner of property rights. If the animal in question is your property, and it creates property, then the intellectual property subsisting in the photos should be your property, i.e. if the monkey belongs to the photographer, the copyright in the Monkey Selfie belongs to the animal owner.
Another view that is being put forward by the public is pro-animal rights. Supporters of animal rights believe that animals have an inherent worth and should have rights equal to humans.
Yet, under the current US copyright law, neither of the above views is backed by any legal authorities. As the Indonesian monkeys do not fall under the category of "author", any subject matter produced by them is not copyrightable and has no owner, regardless whether they are owned by any person.
Hong Kong's approach
In Hong Kong, copyright only subsists in a subject matter if it (a) is a work, i.e. has a minimal leval of "skill, judgment and labour"; (b) falls within any of the following descriptions of work, namely, (i) literary, dramatic, musical or artistic works which are original; (ii) sound recordings, films, broadcasts or cable programmes; or (iii) the typographical arrangement of published editions; (c) is recorded, in writing or otherwise; and (d) satisfies the qualification requirements, namely, the author is domiciled or incorporated in Hong Kong or elsewhere; or is published in Hong Kong or elsewhere (in other words, there is no qualification requirement in Hong Kong).
Under Hong Kong's copyright regime, an author of a work means the person who creates it, according to section 11 of the Copyright Ordinance (Cap. 528 of the laws of Hong Kong). Person, with reference to Interpretation and General Clauses Ordinance (Cap. 1 of the laws of Hong Kong), includes any public body and any body of persons, corporate or unincorporate. Further pursuant to section 178(1) of the Copyright Ordinance, work qualifies for copyright protection if the author was at the material time: (a) an individual domiciled or resident or having a right of abode in Hong Kong or elsewhere; or (b) a body incorporated under the law of any country, territory or area.
Despite the fact that the other elements as listed above can be satisfied, difficulty arises as monkey cannot qualify as "a person", "an individual" or "an incorporated body" under the current legal regime. Therefore, no protection would be conferred on the Monkey Selfie in Hong Kong.
Conclusion
For the time being, animal selfies cannot qualify for copyright protection in Hong Kong or the US. It is apparent that the scope of our current animal rights protection has not yet extended to protect the intellectual property rights embedded in original works created by animals. Whether the legal scope of copyright should be expanded further to cover works created by animals is yet to be addressed, awaiting further discussion in the society to reach possible consensus if any.
For enquiries, please contact our Intellectual Property & Technology Department:
E: ip@onc.hk
T: (852) 2810 1212
W: www.onc.hk
F: (852) 2804 6311
19th Floor, Three Exchange Square, 8 Connaught Place, Central, Hong Kong
Important: The law and procedure on this subject are very specialised and complicated. This article is just a very general outline for reference and cannot be relied upon as legal advice in any individual case. If any advice or assistance is needed, please contact our solicitors.