Our Firm
ONC Lawyers is a professional and dynamic legal practice based in Hong Kong. With continuous growth since our establishment in 1992, we have now become one of the largest domestic law firms with more than 130 members of legally-qualified and supporting staff.
Our firm is a member of International Society of Primerus Law Firms, an international network of the world's finest law firms. With the seamless support of 200 member firms in more than 40 countries, we are able to assist our clients and serve their needs in major jurisdictions all over the world.
ONC Lawyers has been recognized by AsiaLaw Profiles as a "Highly Recommended Law Firm" in Hong Kong. We are also recognized by Chambers and Partners as a "Leading Firm". ONC Lawyers also received the "Debt Market Deal of the Year" Award in the Macallan ALB Hong Kong Law Awards 2018.
30+
Years of Establishment
5
Asialaw Profiles Highly Recommended Law Firm (Years)
15+
Caring Company (Years)
Our Values
Integrity is ourcornerstone. We believe in honesty and universal moral principles. We believein living our lives consistently inside out. Only upon integrity, we believe,can we further build and develop ONC.
Collaboration is our heart. Webelieve in mutual respect and appreciation, irrespective of position andcredentials. We believe in teamwork and empowerment. With effectivecommunication among the team members of ONC,we work and serve together as one.
Pursuing Excellence is our passion. We believe inself-discipline and hard work. At ONC, we walk the extra mile to keep ourpromises and deliver quality work.
We believe thereis an ultimate goal for ONC to attain andachieve. Giving the clients a Solution isour ultimate goal. We endeavour to understand our client's situation and needs.To us, the best Solution means the mostcost-effective and workable solution in the simplest form.
Our motto – Solutions • Not Complications
Corporate Citizenship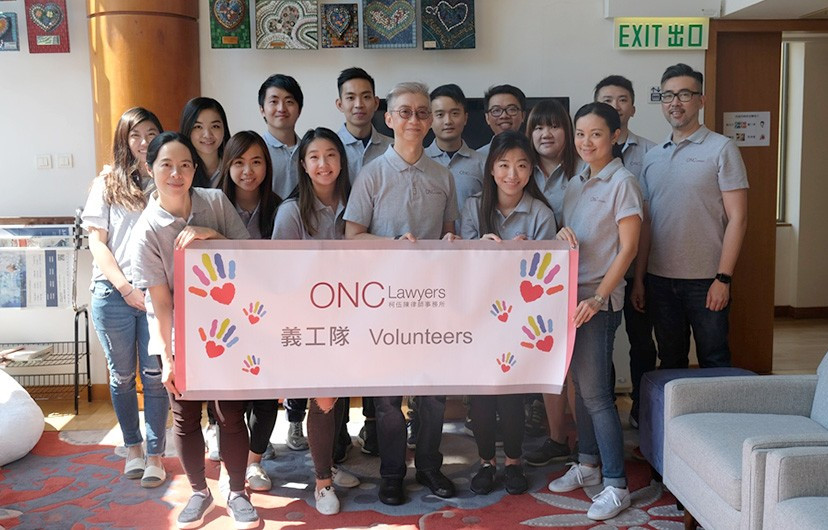 ONC Lawyers is committed to be a responsible corporate citizen for the sustainable development of the legal profession, the workplace, the community and the environment through the following regular activities or initiatives:
ONC Lawyers Prize for Civil Procedure 2020-21 for HKU PCLL students;
Regular activities for staff members and their family;
Volunteer works for RMHC;
Sponsoring RMHC gala dinner;
Donation of chocolate/cookies to RMHC;
Regular waste paper and plastic recycling.
Over the years, we have received various awards in recognition of our commitment in the above areas:
"15 Years Plus Caring Company Logo" for the fourth year consecutively;
"Family-Friendly Employers" for three rounds consecutively;
Awards in the 2021 Pro Bono and Community Service Work Recognition Programme.