Back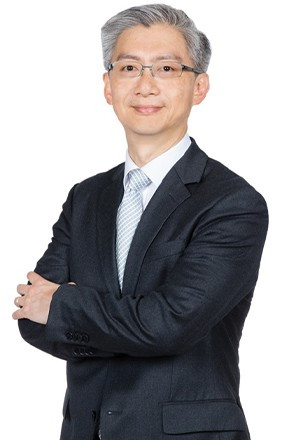 Dominic Wai
/ Partner
Direct Line

(852) 3906 9649
Email

dominic.wai@onc.hk
Principal Areas of Practice
Education
1985 Professional Diploma in Business Studies (Banking) Hong Kong Polytechnic University
1994 LLB (Hons) City University of Hong Kong
1995 PCLL City University of Hong Kong
Admission
1997 Solicitor, Hong Kong
2011 Civil Celebrant of Marriages
Professional Activities & Organisations
Panel member to the Disciplinary Panel A of the Hong Kong Institute of Certified Public Accountants (HKICPA) 2017-2021
Publications
"Legal Shadow over Moonlighting", an article on LinkedIn, 2018
"Minimising Corporate Liability: Advice from Outside Counsel", a publication for IR Global and Association of Corporate Counsel, 2018
The Annotated Ordinances of Hong Kong – Anti-Money Laundering and Counter-Terrorist Financing Ordinance (Cap 615), LexisNexis, 2018 reissue (annotator)
Article on practical guidance on GDPR, LexisNexis, 2018
"The Role of Company Secretaries and Directors in Anti-Money Laundering Compliance", CSj, the journal of the Hong Kong Institute of Chartered Secretaries, June 2017 edition
"How to deal with the "3Cs" when they come knocking your door", CSj, the journal of the Hong Kong Institute of Chartered Secretaries, January 2017 edition
"Directors Beware: Business Email Compromise - The Latest Fraud Scam Threatening Hong Kong Companies", The 21st Century Director/The Hong Kong Institute of Directors, 2015
"Cybersecurity for the 21st Century Director", The 21st Century Director/The Hong Kong Institute of Directors, 2013
Speaking Engagements
HKICPA, talk on dealing with the 3Cs, 2018
IHRM, talk on "Legal Shadow on Moonlighting", 2018
Innoxcell Annual Symposium, panel speaker on GDPR and data privacy, 2018
Academy of Law, presentation on "Managing Data Breach", 2018
LexisNexis, seminar on GDPR, 2018
HK Arts Development Council, presentation on "Legal Shadow on Moonlighting", 2018
Overseas Speaking Engagements
Primerus APAC meeting, Singapore, presented on GDPR, 2019
Primerus APAC meeting, Sydney, presented on cybersecurity matters, 2018
US-ASEAN Business Council, presented on cybersecurity matters, 2014
Experience
Before joining the legal profession, Dominic has worked in the banking sector and as well as in the Independent Commission Against Corruption (ICAC).
Dominic's practice focuses on advising clients on matters relating to anti-corruption, white-collar crime, law enforcement, regulatory and compliance matters in Hong Kong, including advice on anti-money laundering. He also handles cases involving corporate litigation, shareholders' disputes and insolvency matters, defamation cases, domestic and international arbitration cases, cybersecurity, data security and privacy law issues, competition law matters, e-Discovery and forensic investigation issues as well as property litigation. His expertise includes:
Advised Hong Kong listed, US multinational companies and money service operators (MSO) on anti-money laundering matters and practices.
Advised major international companies and Hong Kong listed companies on anti-corruption and bribery and other white-collar crime issues.
Advised and assisted clients on urgent asset freezing injunctions and liaising with law enforcement agencies concerning fraudulent fund transfers due to business email scams and hacked email systems.
Advised the joint and several liquidators of a liquidation matter for over 10 years with considerable recovery for the creditors over the years.
Advised a major broadcasting company on defamation issues, judicial review applications, investigation by regulators and shareholders' dispute issues.
Dominic is currently a board member of a charity that provides a home service for sick children and their families. He is supportive and actively participating in the activities of the charity.
Featured Stories
Back