Back
A Concise Guide to Banking and Financial Services Licensing in Hong Kong
2020-11-30
We are pleased to announce that we have published "A Concise Guide to Banking and Financial Services Licensing in Hong Kong", which is available for download on our website for free. It aims to give a brief outline on the licensing systems and requirements for anyone who wishes to carry on banking, financial services, money related business, trust and company services business in Hong Kong.
Please click 'View PDF' to download the Guide.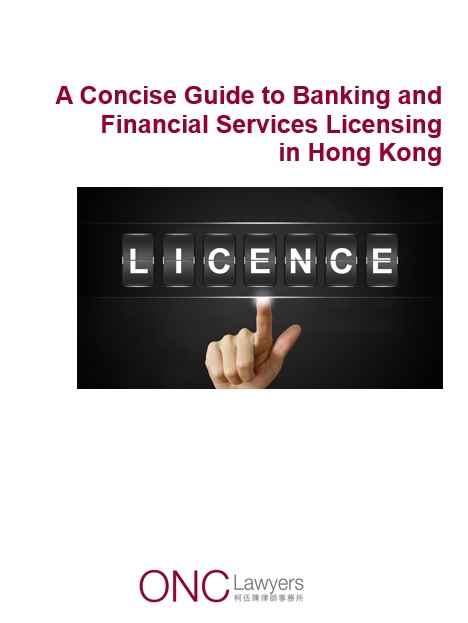 Latest Publications
HKMA exploring possibilities of launching a "southbound" Bond Connect Scheme with the People's Bank of China
The Bond Connect that links the Mainland and Hong Kong bond markets offered overseas investors a more convenient and efficient access to make investments in China's fast-growing and enormous onshore bond market. Since its launch in 2017, the Bond Connect has been widely utilized by global investors. Further, given the strong performance of Renminbi in recent years, Mainland bonds are gaining higher and higher significance in different economies. Following the success of the "northbound" leg of Bond Connect, discussions on allowing Chinese investors and issuers to trade in the Hong Kong bond market have begun. In view of further developing the connection between the Mainland and Hong Kong bond markets, the Hong Kong Monetary Authority (HKMA) has recently announced that it is studying plans for establishing a "southbound" leg of the Bond Connect with the People's Bank of China (PBOC), in order to give Chinese investors access to global bond markets via Hong Kong. Such development is expected to generate ample opportunities for Hong Kong's financial services industry and strengthen Hong Kong's status as an international financial centre.
Essential features of the first individual bankruptcy regulation in China
China enacted its nationwide Enterprise Bankruptcy Law in 1986, but it is only for the insolvency of enterprises and does not cover the bankruptcy of natural persons. The Regulation of Shenzhen Special Economic Zone on Individual Bankruptcy, the first of its kind in China, was enacted on 31 August 2020 and has come into effect on 1 March 2021. The drafting of the Regulation has made reference to similar laws in jurisdictions with a relatively mature market economy, such as the United Kingdom, the United States, Germany, Japan, Hong Kong and Taiwan. The Regulation aims at constructing a complete and modern bankruptcy system and providing a way out for honest but unfortunate individuals saddled with debts they are unable to repay.
Stock Exchange proposes changes to the corporate governance requirements
On 16 April 2021, The Stock Exchange of Hong Kong Limited (the "Stock Exchange") issued a consultation paper on the review of corporate governance code and relating listing rules (the "Consultation Paper") and invited public comments on the proposals. Under the Consultation Paper, the Stock Exchange proposes changes in relation to (i) culture; (ii) directors' independence; (iii) diversity; (iv) the nomination committee; and (v) communications with shareholders, and also in relation to other enhancements.